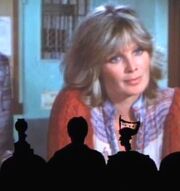 Linda Evans (born November 18, 1942) is an American actress. She appeared with Joe Don Baker and John Saxon in Experiment 512 Mitchell as Greta - a pot-smoking hooker that Mitchell sleeps with in awkward "romantic" sequences (and occasionally arrests).
Evans is perhaps best well known for her role on the television show "Dynasty".
Ad blocker interference detected!
Wikia is a free-to-use site that makes money from advertising. We have a modified experience for viewers using ad blockers

Wikia is not accessible if you've made further modifications. Remove the custom ad blocker rule(s) and the page will load as expected.