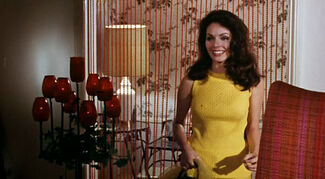 Leslie McRae is an American actress known for her leading role in Experiment #1002 Girl in Gold Boots. 
Biography
Coming from an underprivileged childhood gave Leslie McRae the drive to make sure that she would leave a mark in Hollywood. She won a trip around the World with Ms Universe as Ms Hawaii. She quickly became a favorite of the photographers and became an International Model and Cover Girl. She worked on numerous films and television series.
Ms. McRae decided that she enjoyed being a Producer and Writer more than in being in front of the camera. She has produced over sixty TV specials, many of which have won awards.
Ms. McRae formed a non-profit and is now specializing in "Faith Based films" such as "Hometown Legend" (a Warner Bros. release), "Day of Miracles", and "Celebrity Miracles" (featuring Angelina Jolie, Russell Crowe, Dwayne "The Rock" Johnson, and Jim Caveizel).
Ad blocker interference detected!
Wikia is a free-to-use site that makes money from advertising. We have a modified experience for viewers using ad blockers

Wikia is not accessible if you've made further modifications. Remove the custom ad blocker rule(s) and the page will load as expected.