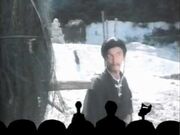 Kiro Wehara (credited sometimes as either "Huera Kiro" or "Chen Wong") is an Asian actor who portrayed the heroic Thong in Experiment 301 Cave Dwellers. He also appeared in the 1986 Italian production The Mines of Kilimanjaro and 1987 post-apocalyptic film Interzone.
Ad blocker interference detected!
Wikia is a free-to-use site that makes money from advertising. We have a modified experience for viewers using ad blockers

Wikia is not accessible if you've made further modifications. Remove the custom ad blocker rule(s) and the page will load as expected.