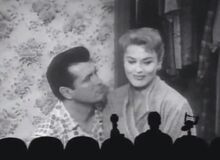 Kathleen Crowley (born 1931) is an American actress. As a young woman she represented her home state of New Jersey in the Miss America pageant.
In addition to her many other film and television roles, Ms. Crowley appeared on the Batman TV show as a love interest of the Penguin (played by Burgess Meredith). Her last screen appearance was in 1970.
Kathleen Crowley played Jeanne Mapes in experiment #419 The Rebel Set.
Ad blocker interference detected!
Wikia is a free-to-use site that makes money from advertising. We have a modified experience for viewers using ad blockers

Wikia is not accessible if you've made further modifications. Remove the custom ad blocker rule(s) and the page will load as expected.