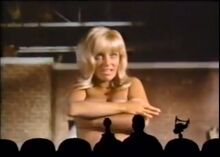 Joy Harmon (born Patty Jo Harmon in 1940) is an American actress. She was discovered by Groucho Marx and performed mostly on television throughout the 1960s. She also appeared in the acclaimed film Cool Hand Luke.
Ms. Harmon has since retired from acting and subsequently opened a bakery in Burbank, California.
MST-ied Movies
Notes
Ms. Harmon appeared (uncredited) as a beauty pageant contestant in an episode of the 1960s "Batman" TV series.
Ad blocker interference detected!
Wikia is a free-to-use site that makes money from advertising. We have a modified experience for viewers using ad blockers

Wikia is not accessible if you've made further modifications. Remove the custom ad blocker rule(s) and the page will load as expected.