Jonah Heston will serve as the new host of MST3K in Joel Hodgson's revival of the series. He will work alongside Crow T. Robot and Tom Servo in the service of Kinga Forrester (who considers him a "big stack of flapjacks").
The name "Jonah Heston" is in keeping with the MST3K tradition of giving the human subject of the experiment the same first name as the actor portraying them. The last name "Heston" would seem to be inspired by the famous actor Charlton Heston, who starred in several popular science-fiction/adventure films including the original Planet of the Apes and Soylent Green.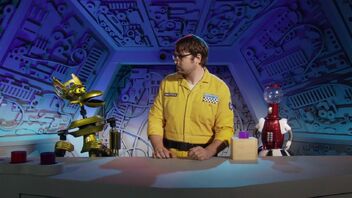 Ad blocker interference detected!
Wikia is a free-to-use site that makes money from advertising. We have a modified experience for viewers using ad blockers

Wikia is not accessible if you've made further modifications. Remove the custom ad blocker rule(s) and the page will load as expected.