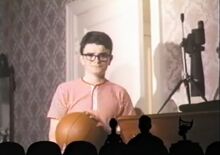 John Humphries is known to MST3K viewers for his role as Mikey Walton in Experiment #514 Teen-age Strangler.
A native of the West Virginia town in which the film was made, Humphries was not a trained actor. He later attended the first ConventioCon ExpoFest-A-Rama in 1994, where he recounted tales of the film's production, including an explanation of his histrionic performance.
His name has occasionally been misspelled as "Humphreys".