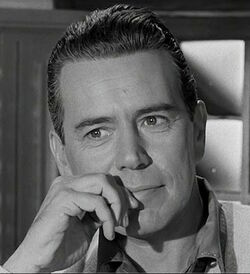 John Forsythe (January 29, 1918 – April 1, 2010) was an American film, television, and stage actor. Forsythe appeared in experiment #615's Kitten with a Whip.
One of more his more well known roles was as the unseen billionaire Charles Townsend in both the original "Charlie's Angels" television series and subsequent movies. He also played the role of Blake Carrington in "Dynasty".
Following his role in the movies Charlie's Angels and Charlie's Angels: Full Throttle, Forsythe retired from acting. He was treated for colorectal cancer in late 2006. Forsythe died in 2010 from pneumonia in Santa Ynez, California.
See Also
Ad blocker interference detected!
Wikia is a free-to-use site that makes money from advertising. We have a modified experience for viewers using ad blockers

Wikia is not accessible if you've made further modifications. Remove the custom ad blocker rule(s) and the page will load as expected.