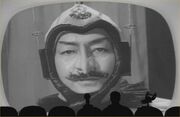 Jôji Oka (often credited as only "Johji Oka"; born as "Katsuzo Nakamizo" in May 27 of 1904 in Kyobashi, Tokyo, Japan; died December 17, 1970) was a Japanese actor who portrayed the Phantom of Krankor in Experiment 816 Prince of Space. Oka's has appeared in over 60 motion pictures and mini-series and his credits include: Until the Day We Meet Again, Chikyodai, No Blood Relation, Dragnet Girl, Tokyo ondo, He Had to Die, The Challenging Ghost, The Last Death of the Devil and Samurai Momotaro: Devil of the Seas.
Ad blocker interference detected!
Wikia is a free-to-use site that makes money from advertising. We have a modified experience for viewers using ad blockers

Wikia is not accessible if you've made further modifications. Remove the custom ad blocker rule(s) and the page will load as expected.