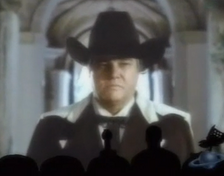 Joe Don Baker (born February 12, 1936) is an American actor originally from Groesbeck, Texas. Two of his films were screened by the Satellite of Love crew: Mitchell and Final Justice. Baker was also mentioned during the episode The Giant Spider Invasion.
While never a particularly mainstream actor, Baker achieved brief fame from starring in the extremely popular 1973 film Walking Tall.  Later, he was cast as CIA agent Jack Wade in the Bond film GoldenEye which was originally intended to be a recurring character in future Bond films, but in the end he only appeared in one more, Tomorrow Never Dies.
Baker was reportedly upset by the mocking treatment of Mitchell, to the point that he apparently threatened physical violence should he meet anyone from MST3K. Kevin Murphy was of the opinion that Baker did not actually mean that, and it certainly did not prevent the cast and crew from mercilessly mocking Final Justice.
Years later, in a 2006 podcast interview with blogsite TeeVee, Mike Nelson elaborated that it had actually been just a parody of Baker that he had stated, which had been taken out of context at fan conventions and repeated so many times, it lost its original impact. The press hounded Baker to the point where Baker said he indeed hated MST3K only to get the media to stop asking.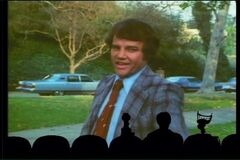 In the 2014 RiffTrax video-on-demand title The Last Slumber Party, Mike comments on how one of the actors appears to be doing a rather successful first-time impression of Baker, due to resembling the actor somewhat.
See also
Ad blocker interference detected!
Wikia is a free-to-use site that makes money from advertising. We have a modified experience for viewers using ad blockers

Wikia is not accessible if you've made further modifications. Remove the custom ad blocker rule(s) and the page will load as expected.