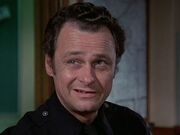 Jerry Hardin (born November 20, 1929) is an American actor who has been working in the entertainment industry since the late 1950s. Hardin was raised outside of Dallas, Texas. He was educated at Southwestern University in Georgetown, Texas. Additionally Hardin received a Fulbright scholarship to attend the Royal Academy for Dramatic Art in London.
In the 1975 movie Mitchell Hardin played the role of the desk sergeant at the station where Joe Don Baker's character brought the prostitute Greta (Linda Evans) after arresting her for possession of marijuana.
Later in the 1980s and 1990s Hardin would play multiple roles on "Star Trek: The Next Generation" - including that of Samuel Clemens. He also made an appearance on "Star Trek: Voyager". He would go on to play Deep Throat in the TV series "The X Files" and it is perhaps that role for which he is most well-known.
See also
Ad blocker interference detected!
Wikia is a free-to-use site that makes money from advertising. We have a modified experience for viewers using ad blockers

Wikia is not accessible if you've made further modifications. Remove the custom ad blocker rule(s) and the page will load as expected.