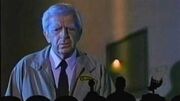 Jeffrey Culver (sometimes credited as "Jeff Culver") is an actor.
He played the security guard Mr. McCreedy in Experiment 907 Hobgoblins. He has also appeared in other Rick Sloane's productions, such as two of the Vice Academy films. He also apeared in Fred Olen Ray's Bad Girls From Mars.
Mr. Culver's last known acting credit was in 1998.
Ad blocker interference detected!
Wikia is a free-to-use site that makes money from advertising. We have a modified experience for viewers using ad blockers

Wikia is not accessible if you've made further modifications. Remove the custom ad blocker rule(s) and the page will load as expected.