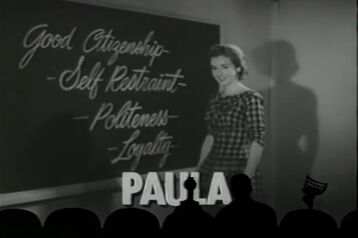 Jean Moorhead
(born Barbara Jean Moorhead) is an American actress. She had been Playboy's Playmate of the Month in October of 1955, and she also appeared in the magazine in January of 1956. Her last screen role was in the 1960 film version of the musical
Bells Are Ringing
.
MST-ied Movies
Notes
Ms. Moorhead's year of birth is given by conflicting sources as either 1935 or 1936.
Her name has sometimes been spelled "Moorehead"
"Jean Moorhead" is also the birth name of actress Barbara Eden.
Ad blocker interference detected!
Wikia is a free-to-use site that makes money from advertising. We have a modified experience for viewers using ad blockers

Wikia is not accessible if you've made further modifications. Remove the custom ad blocker rule(s) and the page will load as expected.