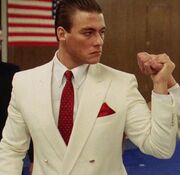 Jean-Claude Van Damme (born October 18, 1960) is a Belgian martial artist, actor, and director best known for various popular martial arts action films, the likes of which include: RiffTrax's No Retreat, No Surrender, Bloodsport (with Forest Whitaker), Kickboxer, John Woo's Hard Target (with Arnold Vosloo and Lance Henriksen), the Universal Soldier franchise (started infamously by Roland Emmerich), Timecop, Street Fighter: The Movie, Sudden Death (with Powers Boothe) and Maximum Risk. Some of his films were produced by Menahem Golan and Sam Raimi. In August 2012, JCVD make a theatrical comeback by appearing as the lead villain in The Expendables 2 (with Sylvester Stallone, Arnold Schwarzenegger and Bruce Willis). On November 14 of 2013, JCVD appeared in an ad for Volvo Truck company where he was shown standing between two Volvo trucks supporting only by his feet.
He was mentioned during one of the riffs for Experiment 320's The Unearthly where Crow T. Robot exclaims: "Van Damme AND Van Damme IN Van Damme Yankees!" which parodies the promotional material for the 1991 film Double Impact, in which he portrayed twin brothers. He was also mentioned quite a lot in Experiment 1004's Future War due to lead star Daniel Bernhardt's habit of resembling the actor and starring in similar types of movies.
Ad blocker interference detected!
Wikia is a free-to-use site that makes money from advertising. We have a modified experience for viewers using ad blockers

Wikia is not accessible if you've made further modifications. Remove the custom ad blocker rule(s) and the page will load as expected.