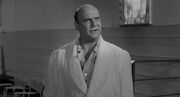 Jackie Coogan (born October 26, 1914, Los Angeles, CA; passed away March 1, 1984, Santa Monica, CA) was an American actor, he first appeared as a child actor in the films Oliver Twist and alongside Charlie Chaplin in The Kid (1921). As an adult, he is best known for his role as Uncle Fester on "The Addams Family". He appeared in Experiment 906 The Space Children.
Ad blocker interference detected!
Wikia is a free-to-use site that makes money from advertising. We have a modified experience for viewers using ad blockers

Wikia is not accessible if you've made further modifications. Remove the custom ad blocker rule(s) and the page will load as expected.