J.C. is a character from The Side Hackers.  He's a hot tempered promoter of stunt motorcycle shows who takes an interest in the new side hacking sport until his arch rival, Vince Rommel, is wrongfully accused of beating and raping J.C.'s girlfriend.  Instead of helping his girlfriend through her alleged grief, J.C. goes and does the same thing to Rommel's fiance, only adding murder to the routine.  One thing leads to another until everything ends in a one-on-one fist fight.  J.C. shoots Rommel in the back and is arrested in turn.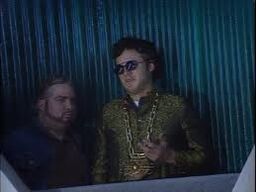 J.C. visits the SOL, with his pal
Gooch
, during the third movie break on a space-faring side hacking motorcycle.  His intention was to bring Joel and the bots back to Earth until he saw them imitating Rommel.