Ad blocker interference detected!
Wikia is a free-to-use site that makes money from advertising. We have a modified experience for viewers using ad blockers

Wikia is not accessible if you've made further modifications. Remove the custom ad blocker rule(s) and the page will load as expected.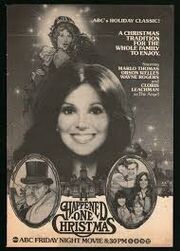 It Happened One Christmas is a 1977 holiday TV-Movie originally shown on ABC-TV, starring Marlo Thomas, Wayne Rogers, Cloris Leachman and in an MST3K tradition of better actors in lesser pieces, Orson Welles. It is a remake of the James Stewart/Donna Reed classic, 'It's A Wonderful Life' directed by Frank Capra thirty years prior, with the genders of the three primary characters flipped. It has been referenced on two separate occasions on
Mystery Science Theater 3000
.
The first occasion was during Hercules Against the Moon Men, with Crow and Servo bemoaning prior Hercules Steve Reeves being replaced by Alan Steel, where Joel reminds them of many great actor substitutions, with former "MASH" alum Wayne Rogers replacing the likes of Elliot Gould, Larry Hagman, Walter Matthau and Donna Reed, the last citing of which confuses the bots, which Joel promises to clear up later.
The second reference came during Santa Claus Conquers the Martians, when Joel realizes his collection of classic Christmas videos is not quite the first-tier offering he thought, since it includes not the 1947 version of "It's A Wonderful Life", but "It Happened One Christmas". In neither instance is the TV-Movie referenced by its remake name.
While forever in the shadow of what has become a Christmas institution, "It Happened One Christmas" was originally shown at a time when interest in and memory of the poor-performing original was on the ebb, and actually revived interest in the original. When coupled with the 1947 film's copyright expiration (since undone), this meant a heavy rotation on TV stations looking to fill time without paying for a film to show. The prints were becoming so worn out prior to the film's restoration, it easily rivaled some of the worst seen on MST3K. So for partly providing the revival of its original and providing Joel and the Bots with fodder for their material, this little TV-Movie had an impact outside its broadcast.