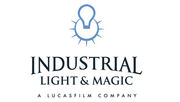 Industrial Light & Magic (ILM) is an American Academy Award-winning motion picture visual effects company that was founded in May 1975 by George Lucas. It is a division of the film production company, Lucasfilm, which Lucas founded, and was created when Lucas began production of the film Star Wars. ILM originated in Van Nuys, California, then later moved to San Rafael in 1978, and since 2005 it has been based at the Letterman Digital Arts Center in the Presidio of San Francisco. Lynwen Brennan, who joined the company in 1999, currently serves as ILM's President and General Manager. In 2012, The Walt Disney Company acquired ILM as part of its purchase of Lucasfilm. They were poked fun at in the classic MST3K episode Space Mutiny by being referred to as "Industrial Light & Morons!"
List of Employees
List of VFX Credits
Ad blocker interference detected!
Wikia is a free-to-use site that makes money from advertising. We have a modified experience for viewers using ad blockers

Wikia is not accessible if you've made further modifications. Remove the custom ad blocker rule(s) and the page will load as expected.