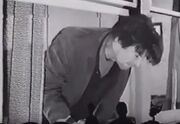 The line "I killed that fat barkeep!" is shouted by
Peter Breck's
character Mooney during Experiment #415
The Beatniks
.
Breck's high-energy performance apparently struck a chord with the cast and crew, and the line became a running gag on the series. It was referred to in the Amazing Colossal Episode Guide as a favorite moment.
A notable use of the line is during Host Segment Four in Experiment #603 The Dead Talk Back, in which Frank confesses to having killed that fat barkeep (among other offenses).
Ad blocker interference detected!
Wikia is a free-to-use site that makes money from advertising. We have a modified experience for viewers using ad blockers

Wikia is not accessible if you've made further modifications. Remove the custom ad blocker rule(s) and the page will load as expected.