Hugh Beaumont (1909-1982) was an American actor. He is probably best known for playing the father Ward Cleaver on
Leave it to Beaver
.
Beaumont appeared in the experiments Lost Continent, The Human Duplicators, and The Mole People. He was also the narrator of the short A Date with Your Family that was shown with Experiment #602 Invasion USA.
"Hugh Beaumont" appeared in the Hexfield Viewscreen in host segments during Lost Continent and The Human Duplicators. He was played by Mike Nelson.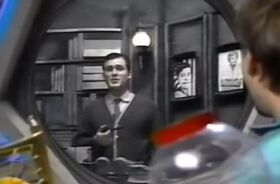 Ad blocker interference detected!
Wikia is a free-to-use site that makes money from advertising. We have a modified experience for viewers using ad blockers

Wikia is not accessible if you've made further modifications. Remove the custom ad blocker rule(s) and the page will load as expected.