Horrors of Spider Island
Talk

0
611pages on
this wiki
1011 - Horrors of Spider Island
Air Date
July 25, 1999
AKA
A Corpse Hangs in the Web
Body in the Web
Girls of Spider Island
It's Hot in Paradise
The Spider's Web
Movie Director
Fritz Bottger
Year
1960
Cast
Alexander D'Arcy
Barbara Valentin
Rainer Brandt
Harald Maresch
Preceded by
1010 - It Lives by Night
Followed by
1012 - Squirm
The Movie
Edit
En route to a show in Singapore, a troupe of dancers and their box shaped manager crash near an apparently deserted island. After washing up on the beach like so many dead carp, the gals (with some help from old 'pants-up-to-his-armpits') coo and sigh their way to a cabin previously occupied by a professor in search of the official trope of all bad monster movies: Pitchblende (uranium).
Radioactivity has wreaked havoc on the island's spiders giving them the strange ability to turn men into, well, fur faced vampires. Except for the duration of the movie, it would appear there is really one one actual spider, who makes a quick exit.
Later the girls are 'rescued' by a couple of leering dirtbags, who came to the island to bring fresh supplies to the dead professor.
But don't let this plot summary distract you from the movie's real goal: Filling the screen with lots and lots of skin and skimpy clothing. The girls very quickly determine the island's climate to be too warm for a normal amount of clothing. The climate is also apparently capable of causing people to make poor relationship decisions, or at least that is the excuse they give afterward.
And, please, let's take time to thank Marie and Pierre Curie for discovering radioactivity and Hans Geiger for inventing the Geiger Counter. Why without those discoveries can you imagine what these monster movies would've been reduced to, in order to explain giant insects, arachnids, lizards, octopii, fish, shrews, and people? Where would The Incredible Melting Man be? Or the Amazing Colossal Man? Or The Beast of Yucca Flats? Or our own Bob Box-Body, the "Horror of Spider Island"?
Yes, like Bronson Canyon, V2 stock footage, spacious and sparsely furnished spaceship cockpits, general confusion about interstellar distances, and radar, radioactivity has made our lives richer. Please support radioactivity where you work or shop.
Information
Edit
Originally released in German as "Ein Toter hing im Netz" or "A Corpse Hangs In the Web", which explains the horrible dubbing.[1]
The first release in the US (1962) was titled "It's Hot In Paradise" and featured several scenes that were a bit too racy for general circulation. It was subsequently recut and released as "Horrors of Spider Island" (1965)[2]
The Episode
Edit
Host Segments
Edit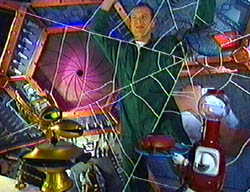 Prologue: Crow has a syndicated column in several major newspapers. Mike doesn't appreciate his keen observational powers. Tom is a big fan.
Segment 1: Pearl decides to move the castle in order to avoid the rising costs of a monkey license. Brain Guy protests, but Bobo is thrilled.
Segment 2: Mike clumsily stumbles into the Bots' obvious giant spider web.
Segment 3: Mike is auditioning dancers in Castle Forrester a la Gary. Brain Guy's Flashdance gets his legs crossed in a hurry.
Segment 4: Crow wonders if the movie's portrayal of women after a plane crash is accurate.
Segment 5: Mike's been turned into a Spider! Except...not really. Meanwhile, The Mads decide to move the castle yet again. Bobo makes a chance discovery in a truckstop men's room, and Pearl decides it's time for "the talk."
Stinger: Stock footage of a plane crash makes the girls scream.
Obscure References
Edit
"Finally, I can read Savage Love!"
Savage Love is a sex-advice column widely syndicated in "alternative" weekly newspapers.
Hai Karate was a men's aftershave from the 1970s.
"I've gotta go back and get Camryn Manheim - this may take a while."
Actress Camryn Manheim is best known for playing Ellenor Frutt on the TV series The Practice. The joke is that Manheim is very overweight.
"And Hedonism II is born!"
Hedonism II is a nudist resort in Jamaica.
"Let's go visit Brooke Shields and Christopher Atkins!"
A reference to the 1980 movie The Blue Lagoon.
"We've got spirit...yes we do...we've got spirit...how 'bout you..." "MRxL."
A callback to the opening host segment of The Giant Spider Invasion.
"I've got feet like Billy Pilgrim."
Billy Pilgrim is the protagonist of Kurt Vonnegut's novel Slaughterhouse-Five.
"Unfortunately, they were picked up by Captain Ron!"
Captain Ron was a 1992 comedy movie starring Kurt Russell.
"Damn Californian, it never helps anyone!"
The SS Californian was a British steamship that was nearby the HMS Titanic when it sank, but did nothing to help.
"The Dixie Chicks go big game hunting!"
The Dixie Chicks are a country music trio that were at their peak of popularity when this episode originally aired. Their popularity would decrease drastically after they made some controversial remarks about President George w. Bush.
"So, Minnesota. That must be passive-aggressive."
Mike was referring to the fact that some consider "Minnesota Nice" as a form of passive-aggressiveness because it can be a forced politeness.
"Minnesota, huh? Boy that Harold Stassen is a bright young face."
Harold Stassen was the 25th Governor of Minnesota from 1939 to 1943.