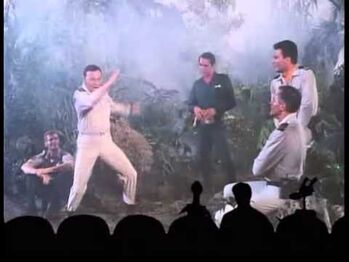 "Hi-keeba!" is a phrase first said in Experiment 104 Women of the Prehistoric Planet when Lt. Red Bradley (played by Paul Gilbert) showed an unintentionally funny example of his martial arts skill. It was subsequently used as riffs for many other episodes.
Appearances
Ad blocker interference detected!
Wikia is a free-to-use site that makes money from advertising. We have a modified experience for viewers using ad blockers

Wikia is not accessible if you've made further modifications. Remove the custom ad blocker rule(s) and the page will load as expected.