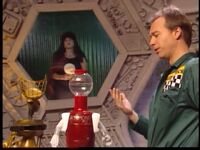 The Hexfield Viewscreen, sometimes shortened to the Hexfield or abbreviated as the HVS, was a hexagonally-shaped opening on the Satellite of Love's bridge that served as a kind of monitor through which the inhabitants of the SOL could interact with a wide and diverse range of visitors. Often, characters were taken directly from whatever movie they were watching at the moment (Gamera, Jan in the Pan, etc), but were sometimes only loosely related to the film (the Kitten with a Whip, Yakov Smirnoff) and sometimes not at all (rowdy redneck neighbors, the Nelson family, etc). The Hexfield was activated and deactivated via the blue middle light on the desk control panel. It was only used for external transmissions to the SOL, as the transmission links to Deep 13 and Rocket Number 9 were both projected through Cambot.
It is possible the sliding segmented cover was based on the air shaft doors of the spaceship Nostromo from Alien.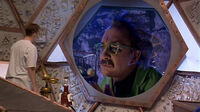 Behind the Scenes
While an ostensible viewscreen, it was actually a small stage area, covered with a dark fabric screen with a various styles of sliding door in front of it; and was often "deactivated" by simply turning off its lighting at the end of a transmission, as some of the early doors closed painfully slow. The HVS was used more frequently during the Comedy Central years, although its use popped up irregularly in the Sci-Fi Channel-era.