Harold "Hal" P. Warren
(October 23 1923 - December 26 1985) was a fertilizer salesman who lived in the El Paso, Texas area. He is best remembered for writing, directing, producing, and starring in the 1966 movie
Manos: The Hands of Fate.
Warren continued on as a fertilizer salesman for some time after making
Manos.
He tried pitching a sequel to
Manos
and another script named
Wild Desert Bikers
, but failed. Warren then tried turning the script of
Wild Desert Bikers
into a book, "Satan Rides a Bike", but could not find a publisher willing to publish his work. Hal Warren died in December 1985. His widow moved to Colorado.
[1]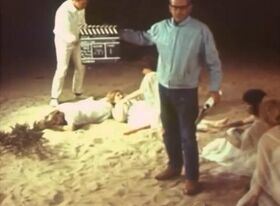 Ad blocker interference detected!
Wikia is a free-to-use site that makes money from advertising. We have a modified experience for viewers using ad blockers

Wikia is not accessible if you've made further modifications. Remove the custom ad blocker rule(s) and the page will load as expected.