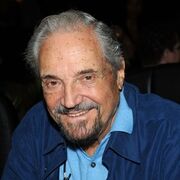 Hal Linden (born March 20, 1931) is an American stage and screen actor, television director and musician who provided voice-overs for the American translations of Experiment 213 Godzilla vs. the Sea Monster (where he voiced Akira Takarada's character) and Destroy All Monsters.
Linden began his career as a big band musician and singer in the 1950s. After a stint in the United States Army, he began an acting career where he first worked in summer stock and off-Broadway productions. Linden found success on Broadway when he replaced Sydney Chaplin in the musical Bells Are Ringing. In 1971, he won a Best Actor Tony Award for his portrayal of Mayer Rothschild in the musical The Rothschilds.
In 1975, he landed his best-known role as the title character in the television comedy series "Barney Miller". The role earned him seven Primetime Emmy Award and three Golden Globe Award nominations. During the series' run, Linden also hosted two educational series, "Animals, Animals, Animals" and "FYI". He won two special Daytime Emmy Awards for the latter series. Linden won a third Daytime Emmy Award for a guest-starring role on "CBS Schoolbreak Special" in 1995. Linden has since continued his career on the stage, in films and guest-starring roles on television. He released his first album of pop and jazz standards called It's Never Too Late in 2011.
Gallery
Ad blocker interference detected!
Wikia is a free-to-use site that makes money from advertising. We have a modified experience for viewers using ad blockers

Wikia is not accessible if you've made further modifications. Remove the custom ad blocker rule(s) and the page will load as expected.