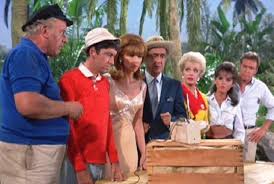 Gilligan's Island
is an American television comedy that ran from September 26, 1964 to April 17, 1967. Created and produced by Sherwood Schwartz, the series featured Bob Denver,
Alan Hale Jr.
,
Jim Backus
, Natalie Schafer, Tina Louise, and "the rest" -
Russell Johnson
and Dawn Wells.
Richard Kiel guest-starred on an episode as a Russian spy known as the Ghost. Glenn Langan of The Amazing Colossal Man also appeared on the series as a Navy pilot.
The show had a catchy theme song (with separate verses that played over the opening and closing credits) with several quotable lyrics.
Season 1
Season 2
Season 3
Season 6
Movies
Season 8
Season 9