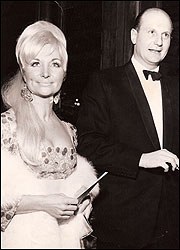 Gerry Anderson, MBE(1929-2012) and his ex-wife Sylvia (1937-2016), were a husband-and-wife pair of British television producers, they are best known for their marionette series in the 1960s, most notably Stingray (edited into the movie Invaders from the Deep) and Thunderbirds (which was mentioned in the pitch video for MST3K, referring to a movie called Thunderbirds to the Rescue) and the live-action program Space 1999 (featured on MST3K as Cosmic Princess). Gerry and Sylvia, the mole-people are named after the couple.
Ad blocker interference detected!
Wikia is a free-to-use site that makes money from advertising. We have a modified experience for viewers using ad blockers

Wikia is not accessible if you've made further modifications. Remove the custom ad blocker rule(s) and the page will load as expected.