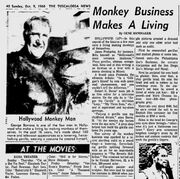 George Barrows (born February 7, 1914, passed away October 17, 1994) was an American actor who often portrayed gorilla characters while wearing an elaborate costume.
He appeared in several TV shows throughout the 1950s and 60s, including "Batman" and "The Beverly Hillbillies".
Riffed Movies
Gallery
Ad blocker interference detected!
Wikia is a free-to-use site that makes money from advertising. We have a modified experience for viewers using ad blockers

Wikia is not accessible if you've made further modifications. Remove the custom ad blocker rule(s) and the page will load as expected.