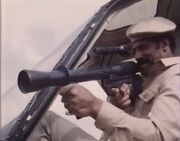 Fred "The Hammer" Williamson is a football player-turned-Blaxploitation and B-movie action star who appeared in Experiment 501 Warrior of the Lost World (with Robert Ginty). His film credits include: Three the Hard Way, Take a Hard Ride, The Inglourious Bastards, The Bronx Warriors (which was followed by Escape 2000), Vigilante (with Robert Forster), the Black Cobra trilogy, Original Gangstas and From Dusk Till Dawn (with George Clooney and Danny Trejo).
In 2011, another Italian post-apocalyptic film he'd been a part of, Warriors of the Wasteland (A.K.A. The New Barbarians) was featured on RiffTrax VOD service.
Ad blocker interference detected!
Wikia is a free-to-use site that makes money from advertising. We have a modified experience for viewers using ad blockers

Wikia is not accessible if you've made further modifications. Remove the custom ad blocker rule(s) and the page will load as expected.