Frank Conniff
Talk

0
766pages on
this wiki
Frank Conniff is best known as TV's Frank, Dr. Clayton Forrester's be-spitcurled sidekick on MST3K. Along with his on-screen persona, Frank was also a writer for the show. Frank's duties for the show also included picking a vast majority of the movies featured on the show. Frank also reportedly found many of Coleman Francis' movies hysterical and so they were all featured on the show.
After MST3K
Frank Conniff was a writer for Sabrina, The Teenage Witch (on which he also made a cameo appearance) and the animated cult favorite Invader Zim.
In 1995, Frank co-wrote the MST-like primetime TV special Attack of the Killer B Movies, which starred Elvira, the Mistress of the Dark.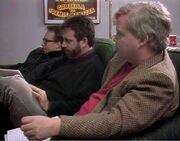 Currently Frank works as a successful stand up comedian. He produced a long-running live comedy show in Los Angeles called "Cartoon Dump". Frank is also a member of the crew of Cinematic Titanic, riffing on bad movies alongside fellow MST3K alumni.
In 2011, Conniff appeared in the satirical dark comedy God Bless America. Conniff also wrote and performed satirical bits for the second and final season of FX Network's political sketch show "Totally Biased with W. Kamau Bell". Like Michael J. Nelson and Co., Conniff also frequently provides witty comments on his Twitter and FaceBook page.
Appearances
Regular roles
Guest apperances
Personal quotes
"I'm from New York City. I'd moved to Minneapolis in 1985 to go into drug rehab. I ended up staying and doing stand-up comedy. Basically, I was a very unknown stand-up comedian when I got on Mystery Science Theater."
"I've never gotten any residuals or royalties from the show, or any money from merchandising. But that has never been a bone of contention with me, because Mystery Science Theater was my first TV show. I've always been totally cool with that."
External links