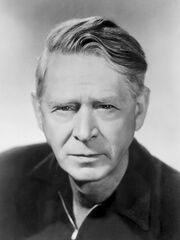 Ford Beebe (b. November 26, 1888, Grand Rapids, MI; d. November 26, 1978, Lake Elsinore, CA) was a director/screenwriter who tackled literally every film genre during his 50-year career; he even supervised the live-action footage used as reference for the "Pastorale" sequence in the Disney cartoon feature Fantasia (1940). For the most part, Beebe called the shots on westerns, detective pictures, and (especially) serials. Some of Beebe's nearly 200 chapter plays include Flash Gordon's Trip To Mars (1938), Buck Rogers (1939), The Green Hornet (1940), and Don Winslow of the Navy (1942). Hardly pausing for breath as he entered the 1950s, Ford Beebe directed all twelve installments of Monogram's Bomba the Jungle Boy B-series, splicing generous stock footage from the 1930 documentary Africa Speaks into each film.
He also directed the The Phantom Creeps series, which was used by The Mads in a number of Shorts during season 2 (Episode 203, 205, and 206.)
References
http://movies2.nytimes.com/gst/movies/filmography.html?p_id=81191&mod=main
Ad blocker interference detected!
Wikia is a free-to-use site that makes money from advertising. We have a modified experience for viewers using ad blockers

Wikia is not accessible if you've made further modifications. Remove the custom ad blocker rule(s) and the page will load as expected.