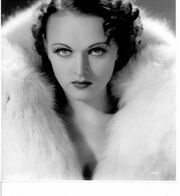 Dorothy Arnold (Nov 21, 1917 -Nov 13, 1984) was born in Duluth, Minnesota as "Olson", She was a blonde who became a nightclub dancer and enjoyed a brief stint with Universal in the late 1930s.
Ms. Arnold co-starred as the imperiled heroine of Bela Lugosi's 1939 serial The Phantom Creeps series, which was shown as one of the shorts during several episodes of Season 2.
She retired from acting to become the first wife of baseball great Joe DiMaggio. Their marriage lasted until 1952 and ended in a protracted court battle over a son, Joseph DiMaggio III. With her third husband, Gary Peck, she later ran a successful supper club in Palm Springs called "Charcoal Charley's," where she often performed.
Dorothy Arnold died in Palm Springs, California from pancreatic cancer.
References
[[1]]
Ad blocker interference detected!
Wikia is a free-to-use site that makes money from advertising. We have a modified experience for viewers using ad blockers

Wikia is not accessible if you've made further modifications. Remove the custom ad blocker rule(s) and the page will load as expected.