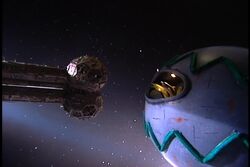 This Spaceship with Dolphins unexpectedly appeared during Experiment #911 Devil Fish and started menacing the SOL after Mike Nelson had heaped insults upon dolphins as a species in general. They refused to leave until Mike apologized for his inappropriate jokes and behavior.
In the same episode, it was later revealed that Dolphins had also entered into a mutual defense agreement with electricians.
Ad blocker interference detected!
Wikia is a free-to-use site that makes money from advertising. We have a modified experience for viewers using ad blockers

Wikia is not accessible if you've made further modifications. Remove the custom ad blocker rule(s) and the page will load as expected.