Devil Fish
Talk

0
614pages on
this wiki
The Movie
Synopsis
Quaint little French-Italian co-production which tells the tale of a "shark with tentacles" that is terrorizing the waters off the Southern Florida coast. [1]
Information
One scene of this film contains a brief glimpse of a male character's genitals, which the Sci-Fi Channel censored by superimposing the MST3K logo over it. And like all the R-rated movies shown on the show, there were two key death scenes removed due to being impossible to edit.
This movie is one of many Italian rip-offs, this time the source material stolen is that of Jaws. Years later, RiffTrax coincidentally had it's music counterpart RiffTones do a hilarious tune inspired by Jaws, the movie they were parodying that month.
The Episode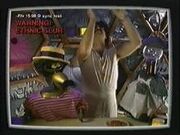 Host Segments
Opening Scene: Mike has an identity crisis, thinking that some government agency has erased it; it turns out that he lost his wallet.
Segment One: Pearl has to convince a couple that the castle is a cruise ship because Bobo forgot to tell her he took 2500 reservations when their number was mistakenly put in an ad for a cruise. She has the crew make ice sculptures: Crow uses four cubes to make Michalangelo's David; Tom puts his in a drink; and Mike tries to weld his.
Segment Two: When the crew make fun of dolphins and their intelligence, some dolphins attack them in a space ship until they apologize.
Segment Three: An electrician shows up to repair some stuff. Mike, Crow and Tom taunt him too, until the dolphins come back; seems that after this movie came out, electricians made a deal with dolphins to protect each other. Mike apologizes.
Segment Four: Because the couple don't understand what the crew does, Pearl tries to make them more Italian. It works until Bobo and Pearl mess with the filter, and it turns the crew into a dangerous stereopype.
Segment Five: Bobo is too busy eating to hear when the couple asks about something on the ship; when Pearl whacks him on the head to get his attention, he goes nuts and she has to tranquilize him. Observer, meanwhile, does his best Issac Washington impression: he points a lot.
Stinger: Janet: 'It's right underneath us!' Peter: "I knooow!"
Quotes & References
"Aw poor Robert Shaw. Eaten again!"
Robert Shaw was the actor who played the grizzled sea captain Quint from Jaws.
"Same picture of Mark Spitz, even."
Mark Spitz was an Olympic swimmer.
"Devil Fish: The Story of Aleister Crappie!"
A reference and play on words to both famous occultist Aleister Crowley and the crappie, a common freshwater fish.
​Dolphin Staffing is a temporary office staffing service based in Minneapolis.
"Don't say/Things you're gonna regret..."
A lyric from the Alan Parsons Project song "Eye in the Sky".
"Too much time on my hands..."
The chorus from the Styx song "Too Much Time on My Hands".
Fab Morvan and Rob Pilatus made up the disgraced pop duo Milli Vanilli.
"You colored girls who have considered suicide when the rainbow is 'enuf'!"
A reference to the play For Colored Girls Who Have Considered Suicide When the Rainbow Is Enuf.
"I'm listening to Shonen Knife!"
Shonen Knife is an all-female Japanese rock band.
"Kick, punch, it's all in the mind."
Referring to a lyric in the video game Parappa the Rapper.
"I can't believe I directed 'North'!"
North was a critically panned 1994 movie directed by Rob Reiner.
"What's that?" "Kraftwerk."
Kraftwerk is a pioneering electronic music group from Germany.
"I got the Amiga working!"
Amiga was a line of computers made by the now-defunct Commodore company, which still have a devoted following to this day despite never being as popular as PCs or Macs.
"What's going on? I say hey-ey-ey-ey! Hey-ey-ey..."
A reference to the song "What's Going On?" by 4 Non Blondes.
"Now it's '10' as rewritten by Terrence McNally!"
'10' was a feature film directed by Blake Edwards, best known for its scene of actress Bo Derek walking out of the water onto the beach in a tight wet bathing suit. Playwright Terrence McNally is known for exploring gay issues in his works.
"Please, Francisco Franco died quicker!"
A reference to Spanish dictator Francisco Franco and the many premature announcements of his death, which was famously parodied on Saturday Night Live.
The Ox-Bow Incident is a Western novel in which three innocent men are accused of cattle rustling and lynched.
"B-baby, we ain't seen nothin' yet, over"
Lyric from BTO's song You Ain't Seen Nothing Yet.
"Southern Man, gonna EAT YOUR HEAD!"
A spoof on Neil Young's song Southern Man.
"Someone threw a match on the Cuyahoga River!"
The Cuyahoga River is a river that flows through Cleveland, infamous for its heavily polluted water. It was so polluted that it caught on fire on several occasions.
"You know, I don't need Neil Young 'round, anyhow."
A reference to Lynyrd Skynyrd's song Sweet Home Alabama, written in protest to Southern Man.