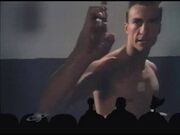 Daniel Bernhardt (born in Bern, Switzerland) is a martial artist-turned-action star of low grade cinema, whose rise to fame came from being in the infamous Bloodsport sequels to the Jean-Claude Van Damme original and starring as Agent Johnson in The Matrix Reloaded (which RiffTrax later parodied).
When he appears in Experiment 1004 Future War, Mike and the Bots make several jokes about his resembling Van Damme.
Ad blocker interference detected!
Wikia is a free-to-use site that makes money from advertising. We have a modified experience for viewers using ad blockers

Wikia is not accessible if you've made further modifications. Remove the custom ad blocker rule(s) and the page will load as expected.