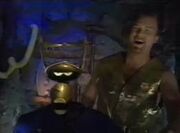 Crow T. Robot was one of the Mads in the mirror universe. He had a scar on his beak, a reference to Mirror Universe Sulu from the "Star Trek" episode "Mirror Mirror". In Last of the Wild Horses, he attempted to assassinate Mike in order to become the head Mad, and was frequently tortured by Mike.
Ad blocker interference detected!
Wikia is a free-to-use site that makes money from advertising. We have a modified experience for viewers using ad blockers

Wikia is not accessible if you've made further modifications. Remove the custom ad blocker rule(s) and the page will load as expected.