Crow's room
is a portion of the
SOL
occupied by
Crow T. Robot
.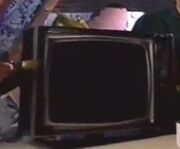 Much like anyone's bedroom, Crow uses his to keep his possessions, which presumably includes a television set that he loots when the power goes out (he'll never miss it). It may be too that he has decorated his bedroom with a Schmidt beer sign and his prized chicken puppet. Crow has also mentioned that he has a blender ripe for the looting in his room (which may be the same which belonged to Joel Robinson (and presumably the same which Tom Servo flirted with in the first season).
Unlike Mike's (and in a way,Joel's) or Tom's room, Crow's room is the only room of occupation not seen throughout the series.


Ad blocker interference detected!
Wikia is a free-to-use site that makes money from advertising. We have a modified experience for viewers using ad blockers

Wikia is not accessible if you've made further modifications. Remove the custom ad blocker rule(s) and the page will load as expected.