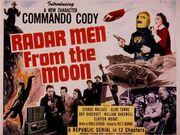 Commando Cody was a title character who appeared in 2 serials produced by Republic pictures during in the 1950s. The first of these - Radar Men from the Moon - was used in the first season of MST3K.
In 1952's Radar Men from the Moon, Cody was played by George Wallace.
In 1953, Cody appeared in Commando Cody: Sky Marshal of the Universe, this time played by Judd Holdren. Aline Towne reprised her role as Joan Gilbert, but the role of Ted Richards was re-cast with William Schallert.
Cody was one of several "Rocket Man" characters to appear in the 1940s and 50s.
Ad blocker interference detected!
Wikia is a free-to-use site that makes money from advertising. We have a modified experience for viewers using ad blockers

Wikia is not accessible if you've made further modifications. Remove the custom ad blocker rule(s) and the page will load as expected.