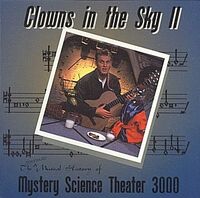 Clowns in the Sky II is the title of a CD featuring music from the eighth and ninth seasons of Mystery Science Theater 3000. Released in 1998 exclusively through the MST3K Info Club, it served as a update to Clowns in the Sky for songs that had been written after the first CD's release. The songs featured include the second-to-last version of the opening theme, the closing theme, and the best of various tunes that were featured in host segments throughout the show. It also includes the three theme songs written for the Sci-Fi Channel Summer Blockbuster and Academy Awards specials. Unfortunately, it came out prior to season ten, and so has none of the songs from the final season.
Clowns in the Sky II is now out of print. However, on December 29th, 2009, this and the previous album were released as one entire compilation on iTunes and amazon.com.
Songs & Sketches Featured
Ad blocker interference detected!
Wikia is a free-to-use site that makes money from advertising. We have a modified experience for viewers using ad blockers

Wikia is not accessible if you've made further modifications. Remove the custom ad blocker rule(s) and the page will load as expected.