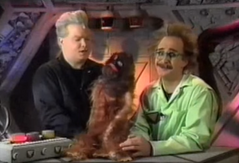 Clayton Forrester and TV's Frank were the test subjects on the Satellite of Love in the mirror universe at the time of Last of the Wild Horses. They were good at riffing, but obsessed with Joey the Lemur. After the movie, they made contact with the prime universe's Satellite of Love, but Mike and the bots quickly found them annoying while trying to read a letter. Afterwards, Mike says, "Wow! In a way, really, Its kinda comforting to know that, uh... no matter what universe your from, you can still be really annoying," to which the bots readily agree.
Gallery
Ad blocker interference detected!
Wikia is a free-to-use site that makes money from advertising. We have a modified experience for viewers using ad blockers

Wikia is not accessible if you've made further modifications. Remove the custom ad blocker rule(s) and the page will load as expected.