"
"I have never seen the show. What people do not seem to understand is that the movie was meant to be a spoof on Sci Fi films."
"
 
— Cisse Cameron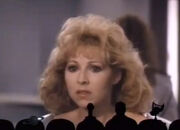 Cisse Cameron (born January 5, 1954) is an American actress. Cameron is best known to MST3K fans for playing the role of Lea (A.K.A. "Grandma") in the film Space Mutiny.
Cameron has been married to Reb Brown, who played the role of David Ryder in Space Mutiny, since September 8, 1979, and is actually several years younger than Brown. She also played the role of Sandy Le Toi in Porky's II: The Next Day, and has been a guest star on several TV series, including Three's Company, The Love Boat, the Ted Knight Show, and Laverne & Shirley
Cameron would later claim that Space Mutiny was intended as a spoof of sci-fi films.
See also
Ad blocker interference detected!
Wikia is a free-to-use site that makes money from advertising. We have a modified experience for viewers using ad blockers

Wikia is not accessible if you've made further modifications. Remove the custom ad blocker rule(s) and the page will load as expected.