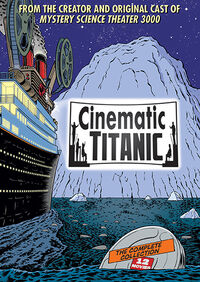 Cinematic Titanic: The Complete Collection is a DVD box set released by Shout! Factory. It was released on August 8, 2017.
The set re-releases every studio and live show previously released individually through Cinematic Titanic's online store.
The package consists of a single multi-disc DVD case.
Early purchasers directly from Shout! received a poster of the cover art.
With the exception of Between the Riffs, none of the extras (mostly trailers) from the original DVDs are carried over to this collection.
Disc 1
Disc 2
Disc 3
Disc 4
Disc 5
Disc 6
Ad blocker interference detected!
Wikia is a free-to-use site that makes money from advertising. We have a modified experience for viewers using ad blockers

Wikia is not accessible if you've made further modifications. Remove the custom ad blocker rule(s) and the page will load as expected.