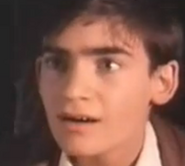 Christian Malcolm is the actor who played the role of Troy McGreggor on the movie The Final Sacrifice. He was also an uncredited co-writer for the film.
Trivia
In the movie's closing credits, Bruce J. Mitchell - who had played Zap Rowsdower - was credited as having played Troy, and Malcolm was credited as having played Rowsdower. According to Mitchell, by the time the mistake was realized there was no money to fix the mistake so it remained in the film.
Ad blocker interference detected!
Wikia is a free-to-use site that makes money from advertising. We have a modified experience for viewers using ad blockers

Wikia is not accessible if you've made further modifications. Remove the custom ad blocker rule(s) and the page will load as expected.