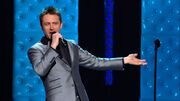 Christopher Ryan "Chris" Hardwick (born November 23, 1971 in Louisville, Kentucky, USA) is an American television host, stand-up comedian, actor, writer, producer, podcaster, musician, and voice artist. He is the chief executive officer of Nerdist Industries, the digital division of Legendary Entertainment and which hosts various podcasts related to popular television shows. Chris also currently hosts the "@midnight" with Chris Hardwick, a nightly comedy-game show series that airs on Comedy Central.
He also was credited in the "Special Thanks To" sections for the Cinematic Titanic presentations Danger on Tiki Island and East Meets Watts. One of his various small film roles was appearing in the 2003 blockbuster sequel Terminator 3: Rise of the Machines, which later got parodied by RiffTrax.
On August 24, 2012, Chris had Joel Hodgson feature as the guest on an episode of Nerdist Podcast (co-hosted by Jonah Ray). In that episode, Chris and the gang got a better idea of Joel's conception of the show and the everlasting effect it had on many viewers including Chris.
One June 9, 2015, Chris had Bill Corbett, Michael J. Nelson and Kevin Murphy serve as the contestants on his "@midnight" show.
Gallery