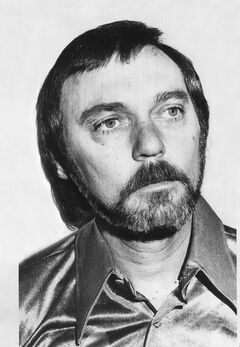 Charles B. Pierce (June 16, 1938 – March 5, 2010) was an American film director, screenwriter, producer, set decorator, cinematographer and actor, and is considered one of the first modern independent filmmakers. Pierce directed thirteen films over the span of 26 years, but is best known for his cult hits The Legend of Boggy Creek (1973) and The Town That Dreaded Sundown (1976).
An Arkansas resident most of his life, Pierce made his directorial debut with Boggy Creek, a faux documentary-style film inspired by the legend of the Bigfoot-like Fouke Monster. The low-budget film grossed roughly $25 million, and Pierce followed that success with several inexpensive, regional films set in the southern United States, including The Town That Dreaded Sundown, based on the true story of the Phantom Killer murders in Texarkana. Pierce continued directing films into the 1980s, when he wrote the story for the Clint Eastwood film Sudden Impact. For that screenplay, he is said to have written the phrase, "Go ahead, make my day," which became one of the most famous movie quotes in history.
MST3K
After years of pressure from producers, Pierce directed a Boggy Creek sequel, Boggy Creek II: And the Legend Continues..., which he considered the worst film of his career. It was later used in Season 10 as Experiment #1006.
Ad blocker interference detected!
Wikia is a free-to-use site that makes money from advertising. We have a modified experience for viewers using ad blockers

Wikia is not accessible if you've made further modifications. Remove the custom ad blocker rule(s) and the page will load as expected.