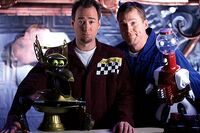 Here you will find a list of the Main and Recurring Characters from Mystery Science Theater 3000. The main characters can essentially be divided into two groups, the crew of the Satellite of Love who riff on the films, and the mad scientists and assorted lackeys who control the movie experiments. There were also a few notable and memorable "guests" who would drop in from time to time.
The Crew of the Satellite of Love
The Mads
Recurring Characters
Ad blocker interference detected!
Wikia is a free-to-use site that makes money from advertising. We have a modified experience for viewers using ad blockers

Wikia is not accessible if you've made further modifications. Remove the custom ad blocker rule(s) and the page will load as expected.