The Movie
"It's one big sunny fun-filled Bataan Death March."
Synopsis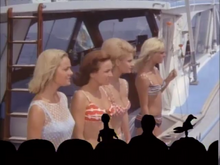 Beach parties abound in this youthful adventure that centers on two surfers-turned-detective as they look into the mysterious theft of a priceless Chinese scroll. [1]
Information
Musical highlights include (an unbelievably high) Little Richard singing "Scuba Party" and The Cascades with "There's a New World Opening for Me." [2]
Carol Connors (original name Annette Kleinbard), the singer of 'Book of Love,' had career highlights before and after this movie. She sang lead for the Phil Spector girl-group The Teddy Bears ('To Know Him Is To Love Him'), and --- hold on to your hats --- co-wrote the theme music for 'Rocky .'
The Episode
Host Segments
Prologue: The Bots say their nightly prayers, including god blesses for a number of fellow robots, including at Joel's insistence, Twiki.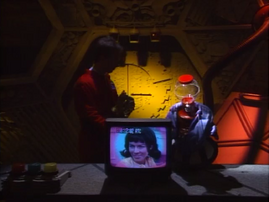 Invention Exchange (Segment One): While willing to reluctantly pray for Twiki, the Bots refuse to pray for the Mads, who have created literal tank tops, where as Joel opts to turn a bazooka into a fun generating tickling device.
Segment Two: Joel vapor-locks as he remembers the '60s.
Segment Three: Tom sings of his love for the mysterious "Creepy Girl" (Ulla Strömstedt).
Segment Four: TV's Frank's attempt to sell Tupperware for evil purposes to Gerry and Sylvia goes badly once Dr. F decides to sit in and watch his sales technique.
Closing (Segment Five): Joel attempts to explain the film with a handy chart, but loses it when the Bots disagree on what is the emotional center of the movie. Joel reads a letter from two people who met and fell in love because of MST3K, including their wedding announcement.
Obscure References
"Here's something we hope you'll really like."
Reference to a line Rocky the Flying Squirrel would say during The Bullwinkle Show.

"How do you know she's a witch?"
Reference to a line that Sir Bedevere mentions in Monty Python and the Holy Grail, pertaining to a woman who has been dressed up and accused of being a witch.

"I'm gonna go invent the Walkman.
Reference to a portable music device created by Sony.
"Was she in the movie 'David and Lisa'?"
David and Lisa was a 1962 film about a man with OCD and a woman with multiple personality disorder .
"Let's see... You are a child, no less than the trees..."
​A slightly mangled quote from the Desiderata , a poem by Max Ehrmann that became popular as a non-denominational devotional in the 1960s and '70s.
"He's no fun, he fell right over!" -After Robert Donner does a pratfall.
Reference to a comedy album called How Can You Be in Two Places at Once When You're Not Anywhere at All by The Firesign Theatre. The line "s/he's no fun, s/he fell right over" occurs on both sides of the record.
"By this time my lungs were aching--- Sorry, sorry."
​One of numerous times MST (ab)used a line from the Lloyd Bridges TV series Sea Hunt ("By this time, my lungs were aching for air..."); its first use as a riff was in episode 109, Project Moon Base .

Reference to a signature line oft-spoken on the 1960's kid's show Beany and Cecil.
"Slamdance Cosmopolis, Do the worm Acropolis"
These are lyrics from the song "Ghetto Defendant" by The Clash, off the album "Combat Rock". These lyrics are read by Alan Ginsburg.
"Ya. You were so much then; you're so much younger than that now."
Spoken by Crow during the "Joel Remembers the 60s" host segment. These are a take on the lyrics from Bob Dylan's "My Back Pages" off the album Another Side of Bob Dylan.
"It's the 'Keep Mandela in Prison' dance."
​Anti-apartheid activist and ANC leader Nelson Mandela was imprisoned by the South African government for 27 years before his release in 1990.
"Do the... Donald Hollinger."
​Donald Hollinger was the name of Marlo Thomas' boyfriend on the TV series That Girl. He was a bit of a stiff.
Video Release
Commercially released on VHS by Rhino Entertainment in October 1999, the episode was also released at the same time as a part of a 3-VHS set with The Skydivers and Shorts Vol 2.
Commercially released on DVD by Rhino in November 2002 as part of The Mystery Science Theater 3000 Collection: Volume 1, a 4-DVD set with The Skydivers, The Creeping Terror and Bloodlust!.
The DVD release is a double-sided disc, with the MST version on one side and the un-MSTed movie on the other. The MST side includes a trailer for the original movie.