Bryant Haliday
Talk

1
1,042pages on
this wiki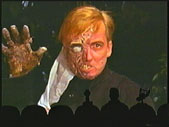 Bryant Haliday was born into a family of European descent and spent the first 16 years of his life in an English Benedictine monastery in Rhode Island. Entering Harvard to study international law, Haliday became involved with a group of students who were interested in putting on plays. He caught the acting bug and abruptly gave up law to become a man of the theater.[1]
MSTied Movies
Biography
Bryant Haliday (7 April 1928 – 28 July 1996) was an American actor, as well as producer, of film and stage who was instrumental in providing a showcase for international film titles in the United States by co-founding Janus Films. Haliday also purchased the historic Brattle Theatre in Cambridge, Massachusetts, and transformed it into the American version of England's Old Vic Theatre School, producing and acting in many of the productions.
In addition to his interest in theater, Haliday was a horror-film buff who appeared in many horror films, most notably two British-made horror films, Devil Doll (1964) and The Projected Man (1967).
Haliday spent the last few years of his life producing and appearing on French television. He died in Paris in 1996.[2]
Filmography
Quotes
"I'd walk miles for the hubble, bubble, and toil of a good horror movie, or to watch Vincent Price stirring cauldrons of horror, or to observe a well-fanged Christopher Lee on the prowl for blood. I love to see black horses and coaches galloping through the night and all that traditional stuff. The more traditional it is, the better I like it."[4]