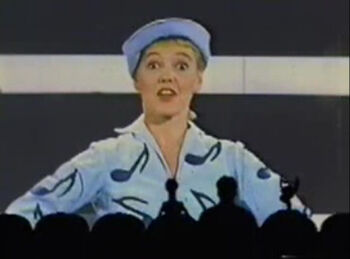 Betty Luster (born April 27, 1922 New Jersey – died May 25, 2011 in West Palm Beach, Florida) was a prominent 40s and 50s American television actress, singer and dancer. Born in 1922, Betty Luster grew up in New Jersey where after winning a beauty contest in 1937, she traveled to London, where she spent several years as a showgirl with the Dorchester Hale dance troupe, later appearing as a dancer on British TV. She returned to US in 1940 in a Irving Berlin's production on Broadway and later became a showgirl in Miami Beach in the Forties, also appearing in an opera. Luster was also a co-hostess in an early version of "Name That Tune" called "Sing It Again." She also had a short-lived variety show "Seven at Eleven" and eventually returned to Broadway. In 1956, she appeared in her final and most famous role, that of Mr. B Natural, the mysterious and androgynous pixie for a promotional film sponsored by the musical instrument manufacturer C. G. Conn. The short became one the most famous shorts on MST3K regarding her mysterious nature and endless exuberance (among other things). She retired after she married Edmund "Ned" Prentis III. The two were fond of big game hunting, fishing and "world class croquet" according to one report (he died in 1997). She also appeared in "Michael Palin: Around the World in 80 Days" as "Marna the Clown."
MSTied Movies
Ad blocker interference detected!
Wikia is a free-to-use site that makes money from advertising. We have a modified experience for viewers using ad blockers

Wikia is not accessible if you've made further modifications. Remove the custom ad blocker rule(s) and the page will load as expected.