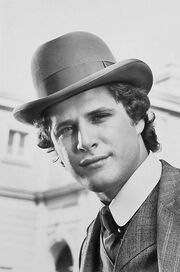 Ben Murphy (born March 6th, 1942) is an American actor, best known for his role in the early 1970s western television series Alias Smith and Jones (in which he played "Jones"). He continued to act in both television and film throughout the 1970s and into the early 2000s.
Riffed Movies
Ben Murphy starred in (or, rather, the camera was pointed at him through most of) the following MST3K experiments:
Gallery
Ad blocker interference detected!
Wikia is a free-to-use site that makes money from advertising. We have a modified experience for viewers using ad blockers

Wikia is not accessible if you've made further modifications. Remove the custom ad blocker rule(s) and the page will load as expected.